Leicester Public Library Renovation: Mosaic Terrazzo Restoration, Repair, Deep Filling, and  Epoxy Terrazzo Installation & Polishing
An "original to the building" mosaic terrazzo floor had been discovered under a rug that was torn up during the demolition phase of the Leicester Public Library Renovation in Leicester, Massachusetts. The floor had some major cracks, deep penetrations, elevation issues, remaining layers of rug mastic contaminating grout lines as well as still adhered to large areas of the floor, and also had cementitious areas within the floor that built-in bookcases had been installed on that were in poor condition (shown below).
New England Floor & Wall was contacted to meet with the Architect Charlie Van Voorhis of DVV Architects to see if the floor could be restored. A small mock-up was performed to show what the floor would look like restored (shown below).

It was decided to come up with an epoxy terrazzo mix to infill the cementitious areas using Red aggregates. A sample composed of Red Cedar aggregate blend, silica sand, and a custom mixed General Polymers color was chosen for the terrazzo installation. The Infill areas were cut and chipped out, and deep filled with epoxy mortar to a depth of 3/8″ in preparation for the epoxy terrazzo. The next day the epoxy terrazzo was installed. The following day the infills were rough ground and a grout coat of resin was applied to fill any pinholes (shown below).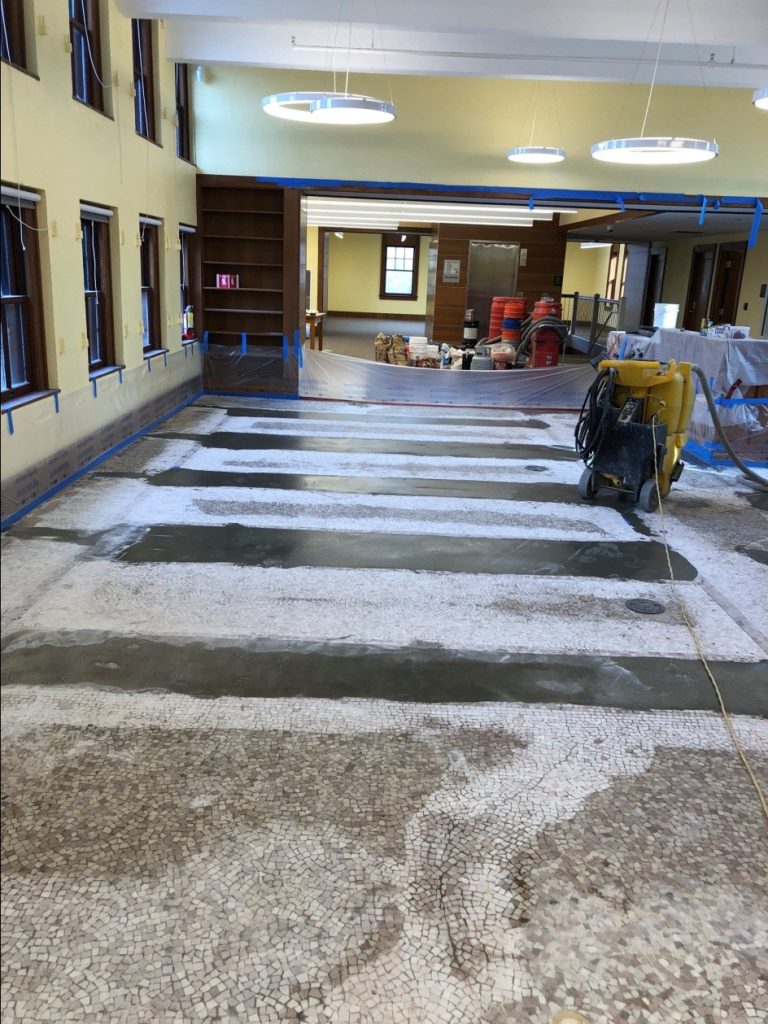 After allowing the grout coat to cure, the epoxy terrazzo was ground with 30/40 metals to full aggregate exposure. These areas were then ready to be restored and polished with the rest of the floor (shown below).

The floor was then ground and honed with a 6 step process using progressively finer grits of diamond tooling. A final pass was made using a Marble polishing compound and polishing pad. The floor was then cleaned thoroughly, sealed with a Stain Protector, and given a Final Burnish to "pop' a mirror finish on the floor.