Transform Your Floors with Concrete Stains and Dyes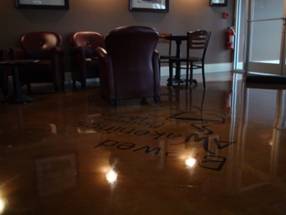 Decorative concrete stain is extremely versatile with unlimited design possibilities on commercial, municipal, and residential floors. Our techniques transform a dull, gray, concrete surface into any design or color scheme desired from simple to sophisticated. They are suitable in industrial settings or in an elegant residential home, retail store, hotel or restaurant. Stained floors are often mistaken for marble, granite, or stone surfaces, however they can cost much less and are just as durable.
Stains and Dyes are not paint. They enhance the natural variation of cement. Frequently referred to as acid stains, the acids open up the pores while the minerals in stain react with salts and lime in concrete. This interaction creates dazzling affects resulting in multiple shades of color which vary in intensity. No two stained floors are ever alike. It creates a natural look which can transform a cement surface into an antique or contemporary floor.
Advantages & Benefits of Stained Concrete
We use various processes depending on the type of surface. We use decorative stains and dyes on concrete polished floors, thin overlays, self leveling overlays, stamped floors or plain, existing cement floors. This is a long lasting treatment that does not peel, chip, or fade. It will last as long as the floor itself. The look is rich, resembling marble or worn leather. Typical stains are natural earth tones of brown and green. We use dyes to create vibrant colors.
Concrete stained floors are easy to clean and unlike carpet, hardwood or tile, they don't trap dust and dirt. Many overlays or polished surfaces are 100% seamless making them easy to keep clean.
Stained Concrete Benefits Include:
Resilient and Long Lasting
Easy to Clean
Great Value
Sophisticated
LEED Compliant
Works with many Decors